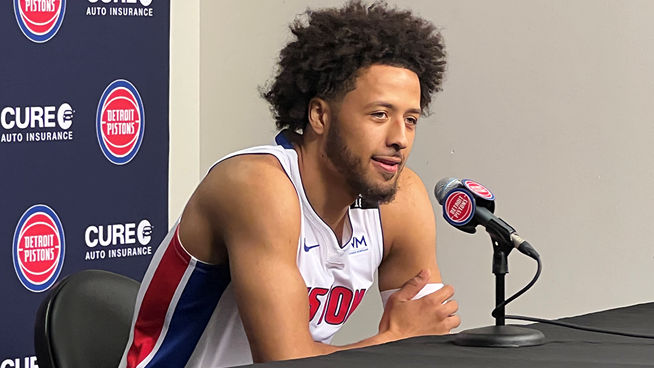 Photo: Curtis Paul / 96.3 WDVD
DETROIT, September 26, 2022 ~ The Detroit Pistons hosted their media day Monday to showcase what is arguably developing as one of the best young teams in the NBA.

The excitement surrounds a fan-anticipated starting five that includes 2022 first round draft pick Jaden Ivey, third-year small forward Saddiq Bey, 23-year-old power forward Marvin Bagley III, 21-year-old second year center Isaiah Stewart, and 2021 first round overall draft pick Cade Cunningham.

"I haven't come up with a starting lineup yet in ink … it's still in pencil," said Detroit Pistons Head Coach Dwane Casey. This just days after a surprise trade for experienced forward Bojan Bogdanovic from the Utah Jazz.

"To get a guy like Bojan is going to help our young guys because he's a guy about structure," Casey continued. "He's about the right things … and so they can learn from him by example … watching him on his daily routines." 

September 26, 2022 ~ Detroit Pistons point guard Cade Cunningham speaks with the media about the work he's put in during the offseason to improve his physicality. Photo: Alonzo Adams / USA TODAY Sports
(CONTINUED) Also on display Monday was a noticeable change in Pistons guard Cade Cunningham, who put the work in during the offseason to pack on 10 pounds of muscle. 

"I didn't recognize him," said Coach Casey. "That physicality will help him … take those bumps, and hits, and bangs, and still have balance and power to finish the play."

Pistons Training Camp begins Tuesday at the Henry Ford Detroit Pistons Performance Center. A free, open-to-the-public practice will be held at Little Caesars Arena on October 2. Pre-season play starts on the road October 4 with a 7 p.m. tip against the New York Nicks. 
September 26, 2022 ~ Detroit Pistons point guard Killian Hayes poses for photojournalists during Detroit Pistons media day. Video: Curtis Paul / WJR